Fishing Trip Checklist
If you are like me, every time I go fishing, I forget something.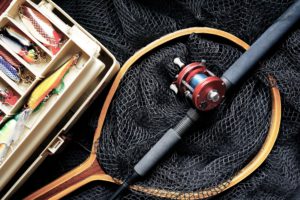 I always hope that it won't have an impact on my outing. After a while, I decided to not solely depends on my memory. I finally decided to use a checklist.
There are many types or style of list on the web.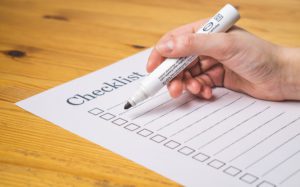 I prefer one that separates everything by categories.
Here is an example I like to use. You can copy it. It's up to you.
Safety/ Required Items

Fire extinguisher
Fishing license
Horn or whistle
Life jackets
Throw cushion

Obvious Items

Electronics
Food and drinks
Hooks
Line
Lures
Plastics
Rod and reels
Weights

Extras (just in case)

Batteries
Boat plug
Line
Film
Fuses
Spotlight (I have had several breaks)
Trolling motor prop, nut, and shear pin

Things to check/maintain

Aerator
Batteries
Bilge pump
Boat motor
Electronics
Lower unit fluid
Put the plug in
Reels
Running lights
Safety chains
Tags
Tie downs
Tilt/trim
Trailer lights
Trailer tires, jack, wrench & spare
Transom saver
Trolling motor
Wheel bearings

Not so obvious items

Anchors and rope
Bug juice
Camera and film
Cap
Cell phone
Coat, gloves, tobaggan
Electrical tape
First Aid
Fish formula
Flashlight and batteries
Jumper wires
Knife
Leader line
Line cutters
Live release formula
Lure retrievers
Maps
Marker bouys
Measuring stick
Needle nose pliers
Needle for air bladder
Net
Paddle/pushpole
Polarized shades
Raingear
Reel oil
Replacement treble hooks
Scales
Skirts for spinner baits and jigs
Spotlight
Split rings and pliers
Sunscreen
Swivels
Toilet Paper
Toothpicks (for pegging weights)
Tools
Trailer hooks and baits
Weigh-in bag
Hope this helps.
I'm curious to know if you use a list or not. If so, what type ? By category or you itemize everything.
Thanks for visiting
Camping and Fishing for Newbies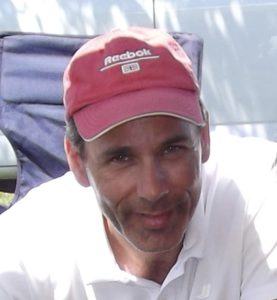 Carl